CORPORATE EVENTS & TEAM BUILDING
Most Human Resource and other corporate managers are challenged with occasionally finding an entertaining, exciting way to bring employees together. In a group setting, this task can be seem daunting. Look no further, Team Trivia is the answer!
WHAT IS TEAM TRIVIA?
Team Trivia is a Live, Hosted event in which the players form teams to have fun and compete. This type of entertainment/competition has been successfully played in bars, restaurants, country clubs, Corporate events, and other venues nationwide, for over 25 years by Team Trivia. There are over 250 Restaurant Venue Shows each week in Atlanta, Ga. alone. Since operations began in Atlanta some 25 years ago, Team Trivia has reached across the United States and you can now play our exciting games from Boston to Phoenix, and of course locally right here in Baltimore, Washington DC and Delaware. Most of our Corporate Events come from a referral, of employees who play at local restaurants weekly.
CLIENTS
Ellin and Tucker Accounting, Franklin & Prokopik Attys., Enoch Pratt Free Libraries, Hunter Douglas Industries, The Home Depot, Bell South, Children's Scholarship Fund Baltimore, Randstad, The Atlanta Braves, Paterson Park Teachers Appreciation Week, Multiple Sclerosis (MS) Walk in Towson,Johns Hopkins Graduate Students Social, Delta Airlines.
We can tailor the game to fit your needs, specific age groups, or custom themes. The length of games can be altered to match your event. There are also different games that are available as well. Including all the hot, new, trendy games. Just ask us!
WE HANDLE EVERYTHING!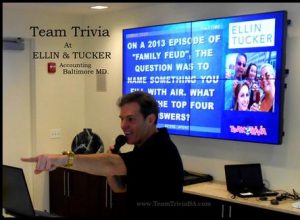 ​We provide:
• PA Systems
• Music (matched to fit your tastes)
• All necessary supplies Including the pens, answer pads, game sheets.
• A Fun Host
As an added professional touch:
• Video (the questions and answers) projected onto screens or monitor TVs for your employees' convenience!
A level of Professionalism unmatched in the Industry!
Call us now at 443-993-9860, or click here to send us an email.